Utility Audits In Arkansas
Get refunded for overbilling from utility companies and energy suppliers.
Of organizations are overcharged for their utility expenses and are entitled to a billing refund.
Get Utility Refunds In
Arkansas
Welcome to our dedicated utility auditing services, specifically crafted to meet the unique needs of commercial, industrial, and municipal clients in Arkansas. In a state where utility management is as diverse as its natural landscapes, our expert team provides comprehensive auditing solutions to ensure cost-effectiveness and efficiency in utility usage. From scrutinizing electricity and natural gas bills to optimizing water and waste management strategies, we leverage our deep understanding of Arkansas's utility sectors and regulatory environment. Our goal is to uncover potential savings, enhance operational efficiency, and guide our clients toward better utility practices, ultimately contributing to their financial success in The Natural State.
Your Dedicated Utility Bill Audit Business Experts
When you contact National Utilities Refund for a utility bill audit, our team of industry experts will evaluate your payments, analyze your services, and look for ways to remove errors, overcharges, and unnecessary charges. We will also obtain utility refunds on historical billing issues. Many utility companies have specific clauses and subsections that affect the final bill but that can be difficult to spot with the untrained eye.
Our team of experts will perform your audit off-site so that our services are non-intrusive. You won't have to rearrange your schedule to accommodate our audits so you can stay focused on your daily responsibilities while we analyze your utility bills.
Utility invoices and third-party power supplier bills.
Telecom provider, telecom rates, and billing errors.
Commodity rates and natural gas tariff schedules.
Water / Sewer Bill Audits
Often overlooked, these bills contain many errors.
We can help negotiate better rates or identify errors.
Discover if you are overpaying for your WC insurance.
We can help you secure tax credits for product development.
Are you overpaying in property taxes? Find out now.
We've Done Over
10,000 Audits
National Utilities Refund is so committed to your satisfaction that our services are done with zero out-of-pocket costs to you. After our audit is complete, if we don't find any ways to save you money or obtain a utility refund, you won't owe us a penny. We stand by our work and are committed to finding you money-saving solutions.
No matter the size or complexity of your business, we have a team of diverse industry experts that understand the bills you pay in connection to your business' services and can find ways for you to save.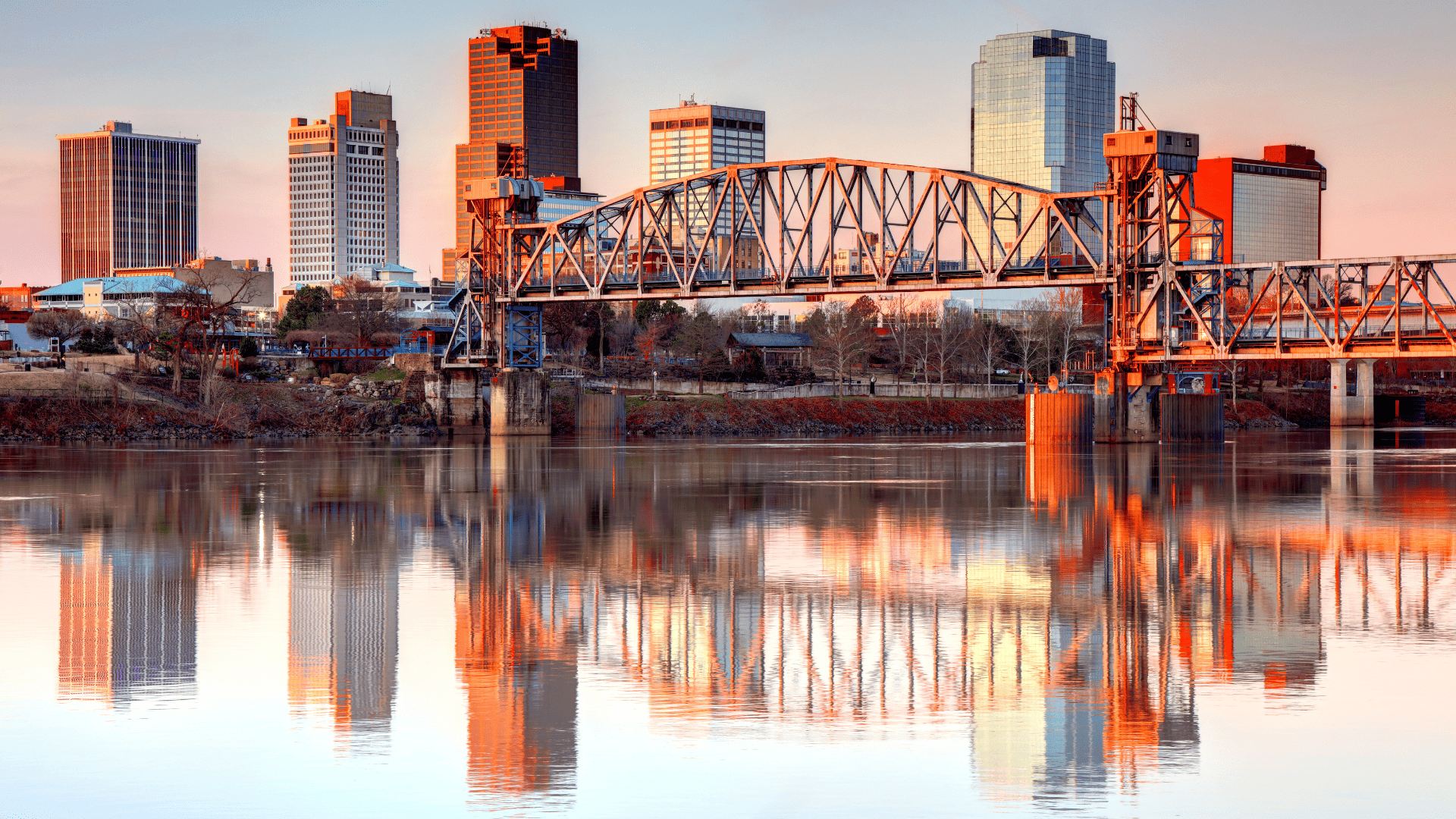 Arkansas Utility Companies
Arkansas, known for its natural beauty and diverse geography, is served by a range of utility companies that ensure essential services like electricity, natural gas, water, telecommunications, and waste management are efficiently delivered to its residents and businesses. Understanding these utilities and the state's tax structure regarding these services is crucial for anyone living in or doing business in Arkansas..
Electricity Providers In Arkansas
In Arkansas, electric utilities play a crucial role in powering the state's homes, businesses, and industries, with major providers like Entergy Arkansas and Arkansas Electric Cooperative Corporation (AECC) leading the charge. These companies not only ensure the reliable distribution of electricity across diverse communities, from bustling urban centers to rural areas, but also focus increasingly on integrating renewable energy sources, aligning with Arkansas's growing commitment to sustainable energy practices.
Entergy Arkansas:
Entergy Arkansas is one of the primary electricity providers in the state, serving approximately 700,000 customers.
The company is recognized for its focus on clean energy production, with a growing investment in renewable energy sources.
Arkansas Electric Cooperative Corporation (AECC):
AECC supplies power to more than 17 local electric distribution cooperatives across Arkansas.
It plays a pivotal role in supporting rural areas, ensuring they have access to reliable electricity.
Natural Gas Providers
In Arkansas, natural gas utilities such as CenterPoint Energy and Black Hills Energy are key players in providing essential energy services, delivering safe, reliable, and efficient natural gas to a wide range of residential and commercial customers. These companies are not only committed to meeting the immediate energy needs of Arkansans but also actively participate in community initiatives and promote energy conservation, playing a vital role in the state's energy landscape.
CenterPoint Energy:
A leading natural gas provider in Arkansas, CenterPoint Energy services a vast number of residential and commercial customers.
They are noted for their customer-centric services and efforts in promoting energy efficiency.
Black Hills Energy:
This company provides natural gas to various regions in Arkansas, focusing on safe, reliable, and efficient service delivery.
They also engage in community programs and energy conservation initiatives.
Water Utility Providers
Water utilities in Arkansas, including Central Arkansas Water and Beaver Water District, are fundamental in managing the state's water resources, ensuring a consistent supply of safe and high-quality water to both urban and rural communities. These organizations are dedicated to sustainable water practices and advanced treatment processes, addressing the unique water needs and challenges of Arkansas's diverse landscape and climate.
Central Arkansas Water:
As a major water utility provider, Central Arkansas Water ensures safe and reliable water services to the region, including Little Rock.
The utility is known for its sustainable water management practices and quality service.
Beaver Water District:
Serving parts of Northwest Arkansas, this district plays a crucial role in sourcing and treating water, maintaining high-quality standards for public consumption.
Telecommunication Providers
Telecommunication providers in Arkansas, such as AT&T Arkansas and Windstream, are instrumental in keeping the state connected, offering a broad spectrum of services from high-speed internet to wireless and landline phone services. These companies are particularly focused on enhancing network coverage and connectivity, not just in urban areas like Little Rock, but also in rural and underserved regions, thereby playing a crucial role in bridging Arkansas's digital divide.
AT&T Arkansas:
AT&T offers a wide range of telecommunications services in Arkansas, including broadband, wireless, and landline phone services.
They have a significant presence in the state, providing extensive network coverage.
Windstream:
Windstream provides internet, phone, and digital TV services, particularly focusing on rural and underserved areas in Arkansas.
The company is dedicated to improving connectivity and telecommunications infrastructure in these regions.
Trash or Waste Management
Waste management providers in Arkansas, including Waste Management of Arkansas and Republic Services, are key to maintaining the state's environmental health through efficient and responsible waste collection, recycling, and disposal services. These companies are committed to sustainable waste management practices, serving a diverse array of communities across the state, from densely populated urban areas to more secluded rural regions.
Waste Management of Arkansas:
This company offers comprehensive waste services, including recycling, waste collection, and disposal solutions.
They focus on sustainable waste management practices to serve various communities across Arkansas.
Republic Services:
Known for their efficient waste collection and recycling services, Republic Services operates in several Arkansas cities.
They prioritize environmental responsibility and customer satisfaction in their operations.
Taxes In Arkansas
The Arkansas Department of Finance and Administration stands as the central authority in managing the state's financial operations, including the administration of tax laws and the collection of various state revenues. This department plays a pivotal role in ensuring fiscal discipline and regulatory compliance across Arkansas, overseeing critical functions such as the collection of sales and property taxes from individuals and businesses, including utility companies.
Sales Taxes on Utilities:
In Arkansas, utilities such as electricity and natural gas are subject to state sales taxes, which contribute significantly to state and local government revenue.
The Arkansas Department of Finance and Administration administers these taxes, with rates varying by locality.
Arkansas Department of Finance and Administration:
This department is responsible for managing the state's tax system, including the collection of sales and property taxes from businesses and utilities.
It ensures compliance with tax laws and provides guidance and services to taxpayers in Arkansas.
Simple and stress-free approach.
Get Started
Return our utility audit agreement & letter of authorization, then simply provide one bill copy for each utility account and a copy of any utility agreements.
Our Audit
Our team will perform the utility audit off-site. We work with the utility company to retrieve historic data.
Findings Process
The utility audit takes between 6-8 weeks. When we uncover an overcharge or utility refund, we present it in a preliminary report for your review.
You're In Charge
You are always in the driver's seat. We will implement the findings that you approve and handle all follow-up paperwork with the utility provider.
Discrepancy Impact Analysis
We will pull the utility invoice from the provider to confirm that the discovered discrepancy was corrected and/or validate that the utility refund was issued. We then calculate exactly how this impacted your bottom line.
Final Report
A final report will summarize the utility audit findings implemented and the utility refunds filed to illustrate the financial impact for your organization.
Your Team of
Utility Bill Audit Experts
So contact us today to learn more about our services, or schedule a utility bill audit so that you can start saving money.